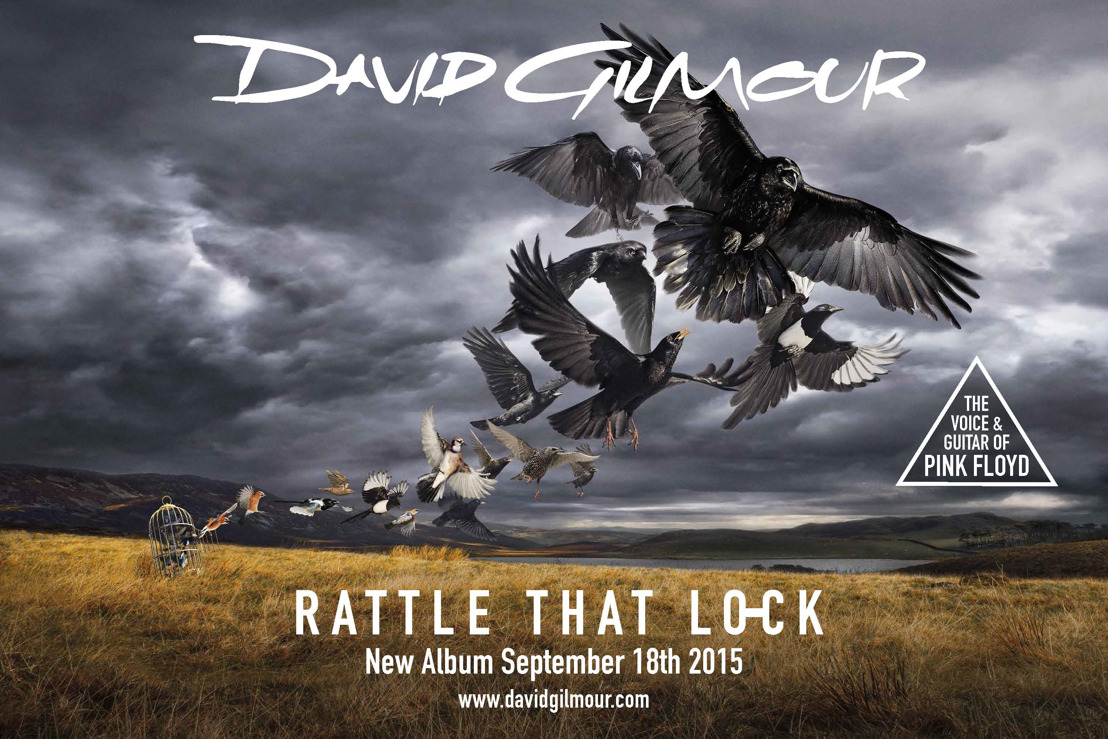 REUZE VOGELKOOI IN BRUSSEL EN ANTWERPEN VOOR PINK FLOYD GITARIST en zanger DAVID GILMOUR
"RATTLE THAT LOCK" ALBUM RELEASE 18 SEPTEMBER
Woensdag 16 september 2015 — Pink Floyd-gitarist en zanger David Gilmour brengt op 18 september met 'Rattle That Lock' een nieuw soloalbum uit in vier verschillende formaten. Sony Music Belgium houdt de Pink Floyd-traditie van larger than life objecten in ere en stelt twee dagen lang een gigantische zeshoekige volgelkooi van meer dan 4 meter hoog tentoon, gebaseerd op het indrukwekkende artwork van het album, ontworpen door The Creative Corporation en de legendarische ontwerpers van Hipgnosis (Genesis, Pink Floyd, Led Zeppelin).
Wie krijgt de kooi open?
Op vrijdag 18 september (station Brussel Centraal) en zaterdag 19 september (Wijnegem Shopping Center), biedt deze reuze vogelkooi de David Gilmour fans bovendien de kans om een exclusieve trip naar Londen te winnen naar het eerste Londense concert van zijn uitverkochte Europese tour op 23 september in de prestigieuze Royal Albert Hall.
De uitdaging is om het slot van de vogelkooi virtueel te openen, iets wat kennis vraagt van David Gilmours muziek en leven. Wie wil deelnemen zal op één van de twee data naar Brussel of Antwerpen moeten afzakken om aan de kooi een unieke code af te halen waarmee je toegang krijgt tot www.rattlethatlock.be.
Wijnegem Shopping Center zal bovendien het nieuwe album heel de dag draaien om de aanwezigen met het album kennis te laten maken. De 'Reuzen van Borgerhout' stonden in voor de bouw van het meer dan 4 meter hoge zeshoekige gevaarte. Voor de titeltrack en tevens eerste single van het album samplede David Gilmour de gekende openingstune van de Franse spoorwegen SNCF. De song zelf is gebaseerd op het beroemde 17de eeuwse gedicht "Paradise Lost" van de Britse dichter John Milton.
Kom zeker een kijkje nemen van de vogelkooi:
18 september: 7u tot 19u - Station Brussel Centraal (Europakruispunt 2)
19 september: 10 tot 18u - Wijnegem Shopping Center (Turnhoutsebaan 5, 2110 Wijnegem)
David Gilmour - Making Of "Today"